---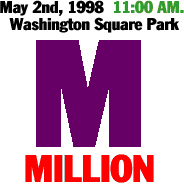 The Million Marijuana March:
An Experience of Love

I began Saturday, May 2nd at 5:30 a.m. when my friend Samar Lovejoy called me to wake my fiancé and I up to get ready for the four hour trip to New York City for the Million Marijuana March. I almost did not get up; I was so tired and not looking forward to being squashed in a car for four hours, but I could not miss my chance to represent State College, Pa and all that I have worked for in the past
2 ½ years just because I was tired.

The ride was uneventful but all four of us in the car could not stop talking about what might happen once we arrived in NY City. Would Mayor Giuliani mace our peaceful protesters? Would the police push us and find the slightest reason to arrest us? Would we get there and no one would know what to do? None of us had been in NYC more than once, and the last time we were all visiting there, we could not have been more than nine or ten years old. Needless to say, we were very apprehensive.
We arrived in New York City around 11:30 a.m. and we had a hard time figuring out where we were to go, but it was a lucky thing I checked out the Million Marijuana website the night before and printed a copy of the immediate route the March was to take place. We weaved our way through the innumerable streets and sections of NYC, marveling at the gargantuan and mystical goings-on around us. As we neared Washington Square Park, I noticed several pro-cannabis clad youths walking away from the area so I asked them why they were leaving. It turns out that Mayor Giuliani had scheduled a "Children's Day" the same day as the March and police were informing some out-of-towners there was to be no Marijuana March. I was very upset and refused to believe that my compatriots would give up so easily. I kept on looking through the park and began to gather my wandering brothers and sisters, convincing them that this was a scheme to drive us away from our task at hand. After 20 minutes of searching, we found people for the March gathering across the Southwest corner of Washington Square Park.
The first person I saw was Stephan Gaskin from High Times magazine, whom I had missed on his book tour for Cannabis Spirituality to my residential town of State College, Pa. I quickly introduced myself to him and nearly knelt at his feet in respect, but he would have none of that. He was very nice and was passing out flyers for his magazine's POTZILLA party on May 29th in NYC.

My party and I waited with Mr. Gaskin and the many others congregating from all directions and soon people who coordinated the March came up with their walkie-talkies and notified everyone of the marching path to follow and how to watch out for not only uniformed law enforcement, but also undercover police whom I later found out were infiltrating many protesters within the march itself.
After the march finally began, I saw many volunteers who had made their own signs and flyers begin to pass them out to all and sunder. I seized the opportunity and not only got a beautiful and artistic sign proclaiming medicinal and spiritual value of cannabis, but I got a huge sign taped to my back that had Uncle Sam saying," I've made you ILLEGAL; Turn yourself in!!" I thought that it was really funny, but soon sobered up because it has become so true in the "freest of all countries." We were so important to Mayor Giuliani apparently because we had a police escort the whole way. I have honestly never seen so many police officers in one place in all my life. I thought to myself, " How many people are getting robbed and killed right now, as these police are 'serving and protecting' people from the ganja smokers?"

All of us marched through the city on Broadway, which I had never had the pleasure of seeing. I saw so many different people marching with the protest who were African-American, Hispanic, Caucasian, and mixed all over the place. Not once did I encounter anyone who was cross or disrespectful. I cried several times when I heard many NYC youths proclaim that they " had never seen so many people get along at one time" and wished "every day could be this way." My heart was so very happy and sad as I walked the long way to Battery Park as heard these wishes. A few times, I just held strangers and cried with them as they told me their stories of persecution and friends imprisoned. I kept telling them all that we were doing this for them and all others who are not loved and understood by the very government supposed to care for us. I will never forget any of these hurt and betrayed people who felt they could open their lives to a complete stranger.

I encountered a celebrity whilst marching past the corner of Wall Street and Broadway. It was Warren B